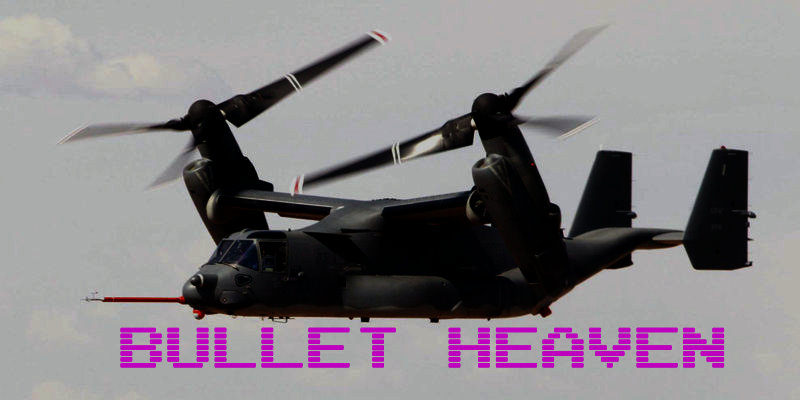 Progear Capcom/Cave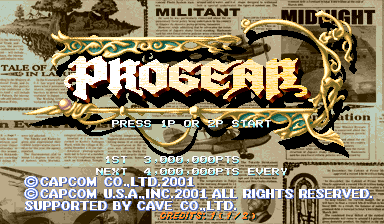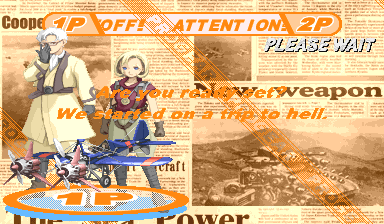 A labor of love, Progear came out 10 years ago, and is a hand-drawn steam-punk style shoot'em up with literally tons of items flying around screen at once. Bullets, power ups, backgrounds, bonuses, small details like flames on ships and birds flying through the sky.. total overload. The storyline, of course, is ridiculous. The characters are, of course, young, ranging from 12 to 17 years old with names like Ring Reed, Bolt Voiyer... and Nail. Thankfully the two characters you play as are Reed or Voiyer, I don't think I'd feel "cool" blowing shit up as somebody named "Nail". How well they work together is tracked and will allow stronger bombs, different endings, and wave difficulty. They are ranked as one of three rankings, which are: Active, Safe, and... Lovely?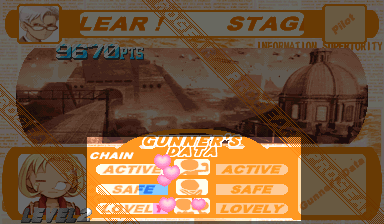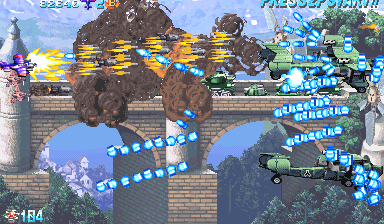 Yes. Lovely. Mind you it's not a deterrent, it's just pretty weird. In the 5 stages of goodness here, things are broken up into 4 sections: a few wave, mid-boss, a few more waves, big boss. The mid-boss comes off as a regular battle with a slightly larger, slightly more powerful ship that can be taken down fairly easily. The bosses are crazy old guys with equally weird names: Ballossum Pench? Olsorro Slasher?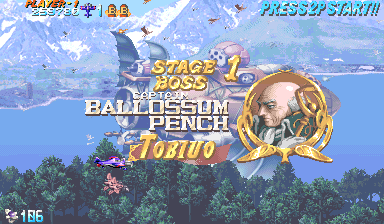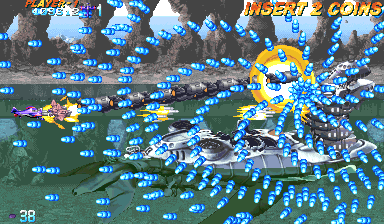 Where is the shoot'em up that has the boss named Dewsh Baggins, damnit! One of the dopes even has a ventriloquist dummy which.. I'm sorry. That' creepy.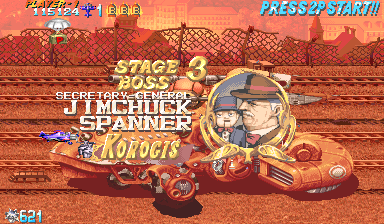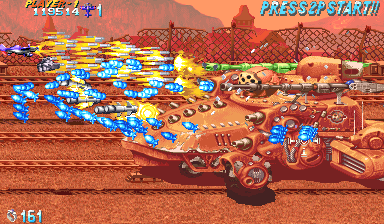 Here's what the semi-reliable Wikipedia says about this game:
"Sometime in the past, the people of the country of Parts had found a way to become immortal, but only with elderly nobles. Five of these elders—Ballossum Pench, Gabriel Hammer, Jimchuck Spanner, Olsorro Slasher, and Leonard Drill—obtained immortality, and became known as the Motoruin sages. Eventually, they attempted to take over the Parts kingdom and start a new world order, collapsing the government and destroying parts of the country in the process. As their plans unfold, five children of one of these villages decide to battle the Motoruin using another new invention: the semi-automatic propelling engine, known as "Progear"."
Well, you can't blame them for trying to write a story, I suppose. Anyhow, this game is enjoyable and if you find it in an arcade you're probably asleep and in dreamland. It's available through emulators which, by now are known everywhere. With the ever-growing world of digital media, maybe someday it will end up on a compilation disc or as a digital download on the XBLA, PSN, or Virtual Console.
2007-2013 Four Tokens Media