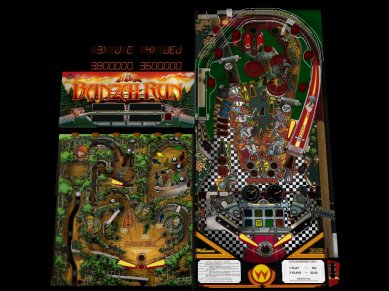 Banzai Run 1988
While technically a two-level playfield, Banzai Run takes a unique turn on that. The second level is a vertical playfield, like a pachinko machine. The ball pops up into the backglass where you have to navigate the race track and pass your opponents with names like BlueBeard and YellowBelly. The announcer is fairly tame, telling you which racer you are currently challenging or passing. He's OK until he starts yelling "Banzai!" Then you wish he'd shut the hell up. The lower playfield has lots of space to roll around in, and a 3rd flipper near the right ramp to help you hit the left target banks. Interestingly there's a ball capture near the left out-lane that will bang you back into the playfield. It's a bitch and 3/8ths to get into that kick-back when you are prompted to do so with a flashing light for more points. Overall a good table, and a great job of emulating it. I thought it couldn't be done!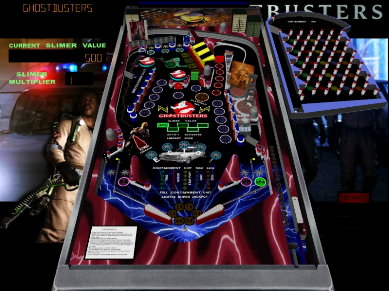 Original Table by IcePagoda 2010 Ghostbusters September 15
A nice looking original table. There are a good number of sound and voice samples, but they don't seem to be activated a lot, and some are repeated a little too often. The light and colors are great, the gameplay is so-so, but for a hobby table it's definitely a nice effort. The mini game located on the right side is a little confusing, it looks like you have to light all of the lights on the playfield. The bad part is the lights reset after each ball, which makes lighting everything more of an effort than it should really be. The only Ghostbuster really visible on the table is Winston, and I wonder if that is by design or coincidence- would the other actors somehow object to using their likeness even on something that is put out by an obvious fan and who wants no money in return?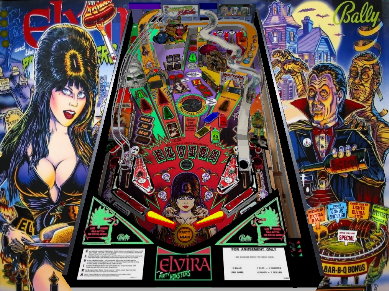 Elvira and the Part Monsters 1989
A classic table about a classy lady, Elvira and the Part Monsters features tons of voice samples, a pretty crowded upper playfield, two very long ramps, and a theme any Elvira and horror fan will absolutely love. In the arcades, the TILT was always extremely sensitive, and the flippers would get weak after a minute or two playing, but in Visual Pinball, these problems are gone (obviously!). There is an overflow of humor, slightly tinted with the odd double entendre and sexual innuendo that Elvira always brings to the party. The artwork is great on this table, and the voicework is strong and really stands out. When you start up multiball, and the old-fashioned digital display starts hopping, and the organ gets pulsing, it makes me long for the days when Elvira's pinball machine was near-new, and I could stand up and play it in a smoke-filled arcade by the Atlantic Ocean. This version, however, is awesome!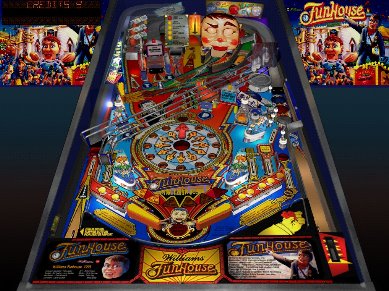 Funhouse 1990
When this one released, and I first played it, I wanted to punch Rudy the dummy in the face. He says lots of things, but he is an important piece of the game. As annoying as he can get, he does tell you where to go and what to do and how to get bigger points. Targets also move the FunhouseClock, and locking a ball at 11:30pm, and another one at 11:45pm cause Rudy to fall asleep, snoring loudly and obnoxiously. This is important as it signals that multiball is lit- and what starts it is putting the ball in his mouth. When you do this, he wakes up, mumbles, and spits the ball out, and you have multiball! There is a left plunger for "Playing on the Steps", which gives 1 of 3 skillshot bonuses, or if you miss the skillshots, a Hot Dog eating bonus (a target in the middle of the field). There is also the Wind Tunnel, which lights up the usual bonuses and extra balls, and there is also a "mystery" trap door bonus below Rudy's head. This game can get loud and hectic, but even with Rudy's voice, this is a great table, and high scores will eventually start coming like grass through a goose.