by Galen Knighthawke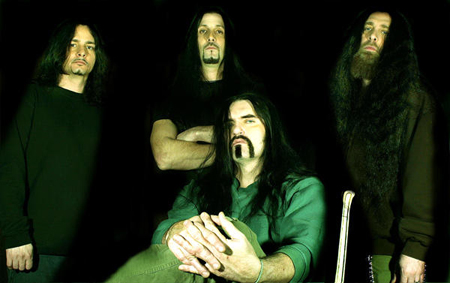 My life was changed forever when Max Shrek played me a goth-metal band by the name of Type O Negative. OK, so that's exaggerating. Let's just say that I heard them for the first time in Max's car and I was quite impressed. It was a live album, called "The Origin of the Feces." The cover, we realized to our horror and slightly too late, was someone's, well, "business end" being held open. (Get it? The origin of the feces?) Ironically, the album wasn't actually "live" at all, I would find out later, but a fraud they had perpetrated upon their record company. I would also later find out that the band's lead singer, bass player, and lead songwriter, Peter Steele, didn't like performing live much.
Since my initial listening to their "live" album, I've seen them live several times. The quality has varied, but the shows have always been entertaining and have never been incompetent. The key to a really good performance seems to be Peter Steele being just high and just drunk enough, but no more. Steele found the right combination in their performance at Northern Lights in Clifton Park, New York (Saratoga County) in October 2009.Not only was it a good show, but two other factors made it slightly different, unique even, from the other times I've seen them.
Difference one was Steele's microphone stand. Steele has occasionally used an old-fashioned, High School music stand to read lyrics off of, and the stands have always been distracting. This time, however, there was a fairly large microphone stand setup, incorporating a stand for sheet music, vaguely reminiscent of that of the lead singers of Korn and W.A.S.P. Though big, the stand was cleverly designed and managed to enhance rather than detract from the overall stage aesthetic. Peter Steele no longer looked like a High School band member who forgot his glasses to the show, and had to strain to see the notes, staring at a simple music stand.
That was difference number one. Difference number two was the keyboard player. We'll talk about him in a little bit.
The band, including Peter, was in fine form musically. Everyone was playing up to par, Peter and his guitar player/co-lead singer on many songs didn't miss many notes. The latter's performance was all the more remarkable for his having pulled double duty, as the lead singer of one of the opening bands, Seventh Void.
For some reason I have never been able to remember what song Type O band has opened with, at the various performances of theirs that I have seen. For example, I once saw them open for Queensryche, and play only 3 songs. (Type O's songs are very long.) Of the 3 songs, I remember the second, the third, and not the first. The performance currently being reviewed was no exception. I have no idea what their opening song was. I remember that the opening few songs were a flurry of activity. I remember that "In Praise of Bacchus," a favorite of Max's, was performed very well. "Halloween in Heaven," a song Steele claims was written in tribute to the murdered heavy metal guitar player Dimebag Darrel. Definitely a crowd favorite and a fitting addition in remembrance of their lost friend and toilet paper target. Elsewhere in the set, I was pleased to hear the great, and ultra-twisted, "Christian Woman." (A song which Max and I once attempted to get onto the radio by requesting it be dedicated to the girls of our High School graduating class.)
The second thing that was "different" about this show was the different keyboard player. Type O Negative's normal keyboard player, Josh Silver, was at the time in the middle of EMT training, so the band got the well-traveled Scott Warren to fill in. Silver is a competent keyboard player, but there was something special about Scott Warren's fill-in performance. Warren has played with Dio and Heaven and Hell (the new name for Black Sabbath with Ronnie Dio singing.) Given that, I'm positive he has some nice black stage clothes, but for this performance he was dressed in a ridiculous red suit. In that suit, I actually mistook him at first for a guy I've seen playing keyboards for Meat Loaf.
The suit and Warren's Las Vegas inspired stage manner formed a beautiful contrast with the black clad, ultra-serious regular members of the band. Warren's playing also has an important virtue that the band's normal keyboard player's doesn't. Somehow, the way he plays implies he could be doing a lot more than he is. Type O's keyboard parts are not complicated, being used more than anything to reinforce melody and define mood. Warren's approach to that simplicity sounded more consciously restrained to me than Silver's approach (which is more consciously embedded into Type O's overall sound). I thought Warren's approach worked really well; I actually preferred it. The purist in the crowd probably found his presence jarring, and leading to more rumors the band is ready to call it quits. And it must be stated that during a few songs he was noticeably ill-at-ease with some unusual timing.
Type O also had to play against a rowdy, fight-ready crowd. One dude in particular was intent on starting as many fights as possible, then backing off when things to too intense. He was particularly fond of turning mosh pits into riots, then regrettably backing out just before he got hurt. Having to divert at least part of my attentions to him did not assist my enjoyment of the show. But that wasn't the band's fault.
A predictable, and welcome, show closer was "Black No. 1," a song they probably didn't expect at the time to be as successful as it was, but which has come to define the band in many ways. The band did not perform their first song ever written, "Unsuccessfully Coping with the Natural Beauty of Infidelity," more commonly known as "I Know You're Fucking Someone Else." This was quite the shame, as it's a great song, and sounds (and has always sounded) better live than in the studio. Steele's voice live, on that particular song if not the rest of his catalog, has more colors. The studio version is mostly just shouted. But alas. Someone had suggested to me that the band doesn't perform that song when Steele is in a stable relationship. If that supposition is correct, I wish him, and her for that matter, luck.
Unlike the previous time I saw Type O, this time the opening bands did not damn near walk away with the show. Even Seventh Void, which features Kenny Hickey (guitars/vocals) and Johnny Kelly (drums) of Type O playing a similar musical style, didn't come across all that well as compared to Type O. Though I enjoyed all 3 opening bands at the time, in retrospect I hardly remember them at all. I tried to look them up so I could at least name them for this review, they played well enough to at least be mentioned, but sadly Northern Lights' Internet site doesn't seem to have a public historical archive. Type O, if you are into either metal or goth and preferably both, is definitely worth seeing.
Galen is a freelance contributor to the Four Tokens Media family.
2007-2015 Four Tokens Media