December 23 2014
The Pinball Arcade has been on Steam for awhile, this page hasn't been updated in quite some time. Offline priorities and incidents have prevented proper updating of this website. My PC still can't handle The Pinball Arcade, but it has launched on PS4 and Xbone. However it has yet to launch on the XBox 360, although they assure use that it IS coming. Fingers crossed on that one. It's also coming to the WiiU. Reading Facebook updates on Pinball Arcade shows that the vocal people seem to constantly complain about something: the sound, the releases, the specials, the updates, the tables, the cost, etc, etc... The only complaint I have is that the XBox 360 version isn't out yet. I've played it on my KindleFire, and it looks good, but I need the tactile feel of a physical controller. Screw the touch screen. The tables look great, sound great, play great. I just need a controller to play the stuff.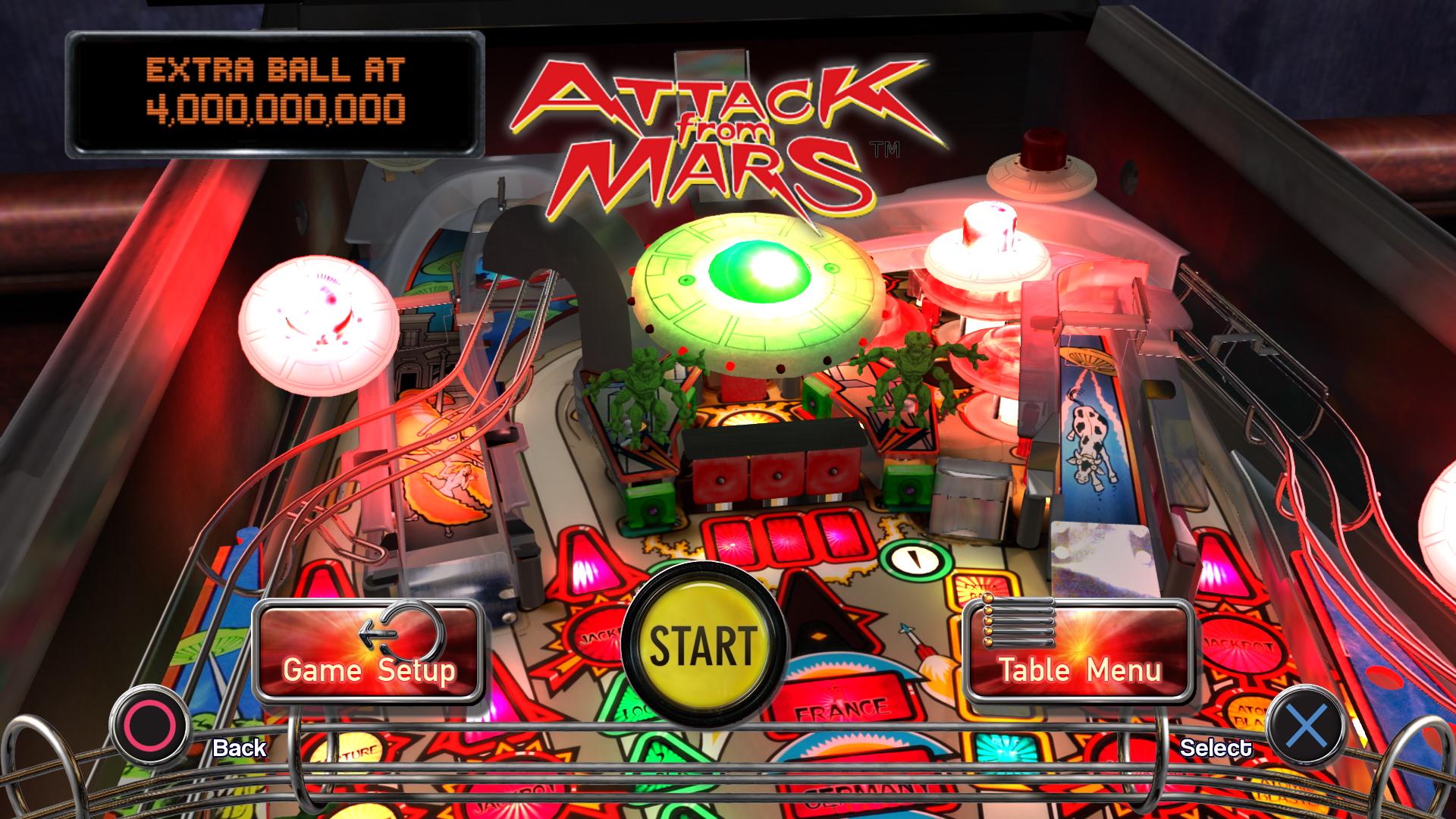 February 24 2014:
Some sweet shots on the PS4 version. I'm feeling left out as an XBox 360 gamer with a PC that doesn't run the Pinball Arcade properly: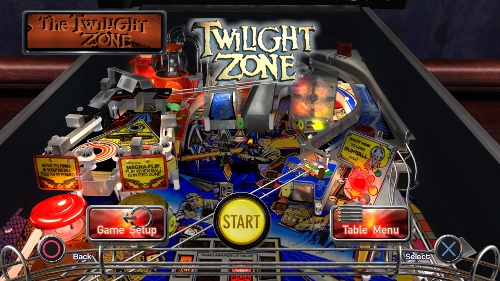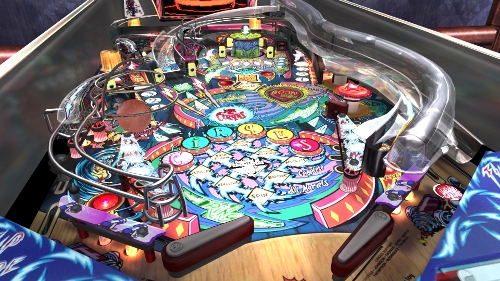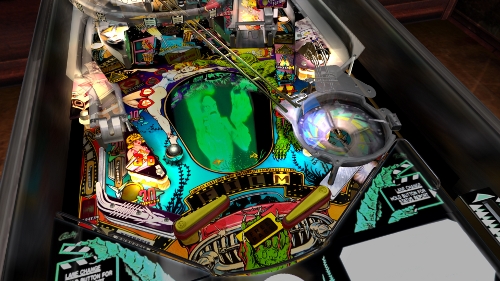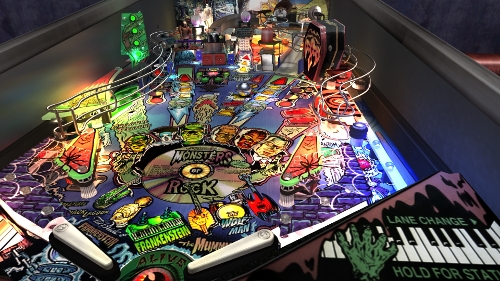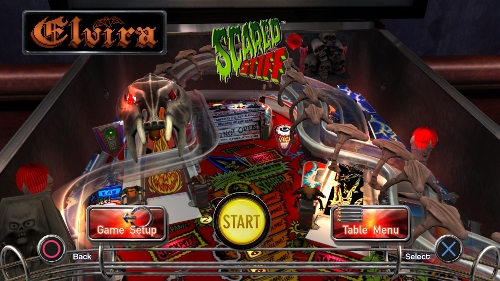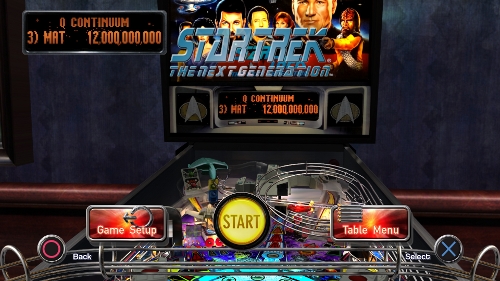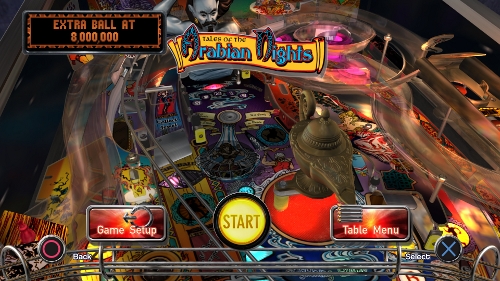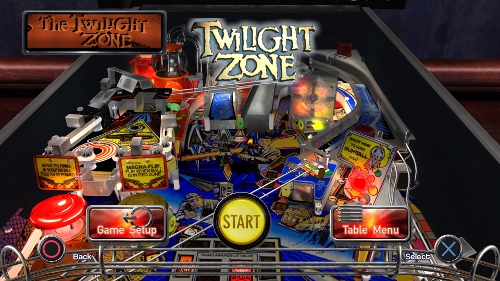 November 7 2013:
The Pinball Arcade is up on STEAM (as of November 4,) but doesn't work on my PC. Damnit! Some day I will own this game. Some day.
November 2 2013:
They're currently working some bugs out of the system on Steam. The official word:
It looks like the Steam launch is going to be delayed a few days.
We thought everything was ready to go until we heard this morning that our in-app purchase prices weren't set up correctly in currencies other than US dollars.
The issue has been fixed, but now we're awaiting clearance to release.
We are very sorry for the inconvenience! On a positive note, we're down at the LA Convention Center this weekend in Elvira's booth at Comikaze.
We've brought the PS4 version down to LA along with our Scared Stiff™ and Elvira and the Party Monsters™ tables with us.
Anyone attending the show can play for free.
October 30 2013
The Pinball Arcade has officially been announced for Steam and launching on November 1st 2013! Packs 1 thru 18 are going to be available at launch. It's a big overload of holy shit coming to Steam! The official announcement is pretty short:
You've been waiting for it.... and now, we're proud to announce that all Steam users will be able to purchase Pinball Arcade for themselves on November 1st, 2013! Table packs 1 through 18 will be available at launch.
Currently Available Tables: Updated December 23 2014



Being a pinball player, I've definitely got my favorites up there: Terminator 2, Pin*Bot, Elvira & The Party Monsters, Scared Stiff, Funhouse, Centaur, Attack from Mars, Twilight Zone, Whirlwind, Haunted House, Creature from the Black Lagoon 3D. It's going to be a good day for pinball fans with PC, I think it's high time to forget about the XBox 360 version.
Pricing: You can download Pinball Arcade for free with Tales of the Arabian Nights unlocked and you are able to play the demo version of each table. Good thing too, on the 360 I've got Williams Pinball and I've already got Tales of the Arabian Nights. The Base Pack is $8.99, and the Table Packs are $4.99 for the standard Table Pack, and $7.99 for the Pro Table Pack. The Pro Pack allows you to mess with the operator's menu, ball control, the tilt, adds table exploration, and IFPA Pro Tips.
Game Rating Scale: Good May or May Not Like Not As Much
$8.99 Base Table Pack: Tales of the Arabian Nights, Black Hole, Theatre of Magic, Ripley's Believe it or Not!
$4.99 (Reg) $7.99 (Pro) Table Pack #1: **Bride of Pin*Bot, Medieval Madness Table Pack #2: Cirqus Voltaire, **Funhouse
Table Pack #3: Monster Bash, Gorgar Table Pack #4: Creature from the Black Lagoon 3D, Black Knight
Table Pack #5: Harley Davidson, Taxi Table Pack #6: **Elvira & The Party Monsters, No Good Gofers
Table Pack #7: Big Shot, **Scared Stiff Table Pack #8: **Twilight Zone Table Pack #9: **Star Trek TNG
Table Pack #10: Attack from Mars, Genie Table Pack #11: Dr Dude, Firepower
Table Pack #12: Cactus Canyon, Central Park Table Pack #13: White Water, Space Shuttle
Table Pack #14: **Centaur, **Pin*Bot Table Pack #15: The Championship Pub, Whirlwind
Table Pack #16: Flight 2000, Goin' Nuts Table Pack #17: T2 Table Pack #18: **Haunted House, Tee'd Off
Table Pack #19: Class of 1812, Victory Table Pack #20: Cue Ball Wizard, El Dorado
** Denotes Bias for Personal Favorite
(all ratings based on my own opinion and yes, I've played them all at least twice)
Also available on Pinball Hall of Fame Williams Collection: Gorgar, Pinbot, Funhouse, Black Knight, Space Shuttle, Whirlwind, Firepower, Monster Bash, Medieval Madness, Taxi, and Tales of the Arabian Nights
The Pinball Arcade Statement:
Pinball Arcade
by
FarSight Studios
features exact recreations of the all-time greatest pinball tables from Williams®, Bally®, Stern Pinball®, and Gottlieb® together in one game.
Every flipper, bumper, sound effect, and display pixel has been painstakingly emulated in astonishing detail.
Download now and you'll get the incredible Tales of the Arabian Nights™ table for free!
Twilight Zone™, Star Trek: The Next Generation™, Theatre of Magic™ (named the best video pinball simulation of all time by G4TV), Scared Stiff™, Elvira and the Party Monsters™, Monster Bash™, Gorgar™, Circus Voltaire™, Funhouse™, Medieval Madness™, Pin•Bot™, The Machine: Bride of Pin•Bot™, Creature from the Black Lagoon™, No Good Gofers™, Big Shot™, Taxi™, Harley-Davidson® 3rd Edition, Black Knight™, Cactus Canyon™, White Water™, Space Shuttle®, Centaur™, Flight 2000™, Goin' Nuts™, Terminator 2: Judgment Day®, and other great tables are also available from within this great game.
Each month, regular updates will add classic pinball tables for years to come!
Our goal is for the Pinball Arcade to become the most realistic and comprehensive pinball game ever created. Please support us in our efforts to preserve these tables and join the indelible part of Americana that is pinball!