Some movies come out of nowhere to laugh at you with what it has to offer, and dare you to like it. Other movies appear to you after they've drifted passed the theatres and jumped in to the PayPerView stable. I'd never heard of I Sell the Dead, but the title had me at "Hello". It was too absurd a title to not preview it on the On Demand button our cable provider offers us. What did it give us? A strange trailer that offered a glimpse of a dark comedy of a movie about a grave robber, his apprentice, and their grave robber competitors. We could swing the $6.95 for this one.
We start with the execution of Willie Grimes, grave robber and apparent dirtbag, as he is lead to the guillotine to surrender his head to society for stealing corpses, all while mocking and talking it up like a sailor who knows what the deal is and mocks the law openly. Wait, wasn't this a lead character in the movie? Why is he dead already? Journeying back into the dungeon, we meet Arthur Blake, a contrite grave robber who starts confessing to Father Duffy, ably portrayed by the man who has a lower jaw to stop a bus, Ron Perlman. Yes, the same Ron Perlman who took the role of Hellboy, and who painted a wall in Stalingrad red with his brains in Enemy At The Gates.
Blake and Father Duffy drink and talk about what a foul job being a grave robber is, and what sometimes lurks in said graves. Examples include a woman who is supposed to be a vampire complete with a stake through her heart, a casket of questionable build, and what could be an alien corpse. The latter being very obvious to us in the present, given all of the alien lore we've heard and read, but totally and completely foreign to a couple of seeming dopes in the 1800s.
Scenes are interspersed with graphic-novel animated scenes, and we guessed correctly that it was based on a graphic novel. The animated scenes tell more backstory than anything else useful, but fit in quite well with continuity and story telling.
(continued up above) ->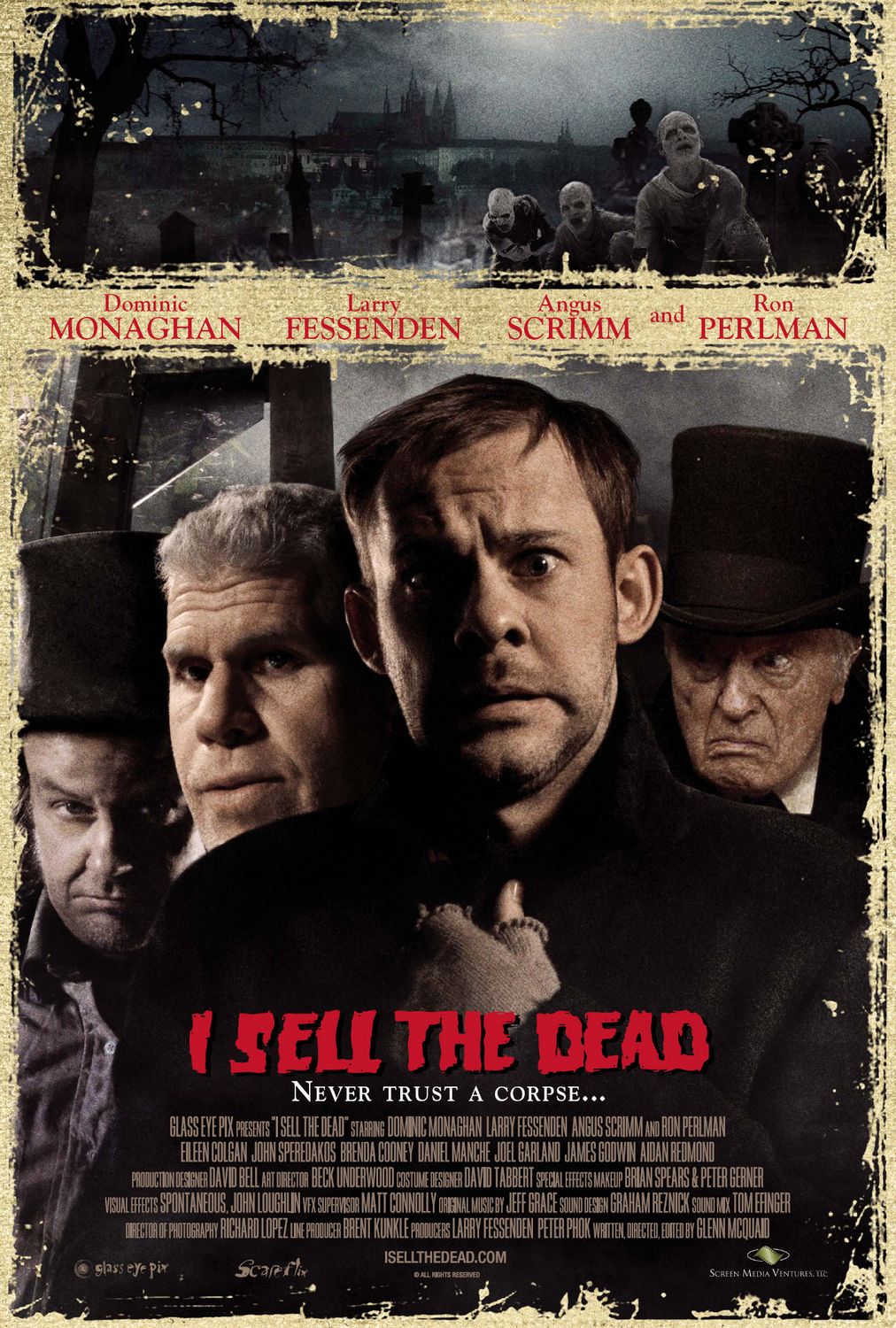 <- (continued from down below)
Through his confessions, Blake mentions the competition amongst grave robbers, particularly a clan called the Murphys, the final word and most powerful grave robbers. So much so that they would rob the other grave robbers. What could he weaker robbers do, go to the law? Not necessarily a good idea nor is it a viable option.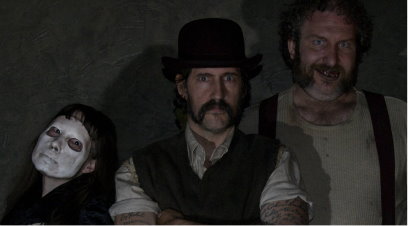 Above: The Murphys
What does this all leave us with? A silly, campy, dark comedy of corpse snatchers, the dead and the undead, the indigenous dead and the, err, transient dead, all packed in a super low-budget film with an odd twist. And what horror flick worth its weight would not have an ironic twist or a "didn't see that coming!" moment or three. The Four Tokens Media movie crew gives I Sell the Dead 3 1/2 stars out of 5.
Below: Willie Grimes (the one with the hat) and Arthur Blake